SPARE PARTS

Full List of Duro Dyne Machinery Spare Parts May 2018
Gun and Cable
A new, innovative, ergonomic, high impact gun allows more flexibility during operation. The cable enters through the bottom rather than the back, making it more comfortable to use. The plastic molded casing makes the gun lightweight and durable, and its compact size allows welding in round duct as small as 8 inches.
Available in 10ft and 16ft cable. Will work with MF-12, MF12A, PBF14, PBF510, PBF520 Pinspotters. Kits are available for use with the Bulk Feed FG MACH & RH MACH Pinspotters.
27275 10Ft Gun and Cable
27276 15Ft Gun and Cable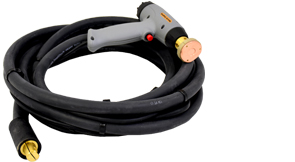 Gun and Cable Literature Sheet
Pinspotter Replacement Tips and Plates
17189 Upper weld plate and 17190 lower weld plate need to be replaced as basic maintenance of your bulk feed pinspotter machines. Replacing the plates at the right time will prevent you from having to replace the whole tip.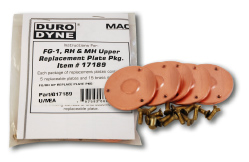 Machinery Consumables Literature Sheet
Nickel Plated Machinery Consumables Literature Sheet
Upper Replacement Plate Instruction Sheet
Lower Replacement Plate Instruction Sheet
FG RH Foot Pedal
The cast aluminum foot pedal from Duro Dyne comes standard with certain models of machinery to free up the operators hands for easier material handling. It is a light, durable, cast aluminum foot pedal and features a large opening to accommodate todays steel/composite toe boots.
It can accept a maximum voltage of 250VAC and can be used universally on all our machines that accommodate a foot pedal option such as the RH series pinspotters, FG series pinspotters and Rod Lock Insertion machine.
17372 Footswitch with Guard (Foot Pedal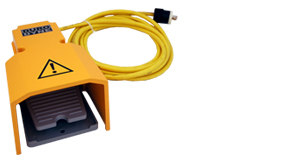 Lift Kit
An optional machinery lift kit is also available for a custom ergonomic work space. Multi-Height Pinspotter Lift Kit will allow for height increase of 4″ or 6″.
17135 FG/RH Lift Kit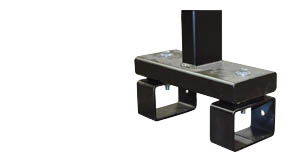 TSP/TBW Spot Welder Parts
The Duro Dyne TSP & TBW Spot Welders have been discontinued although parts for these spot welders are still available.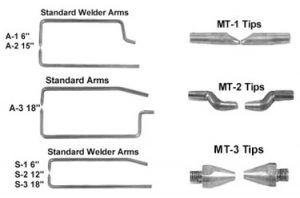 TSP / TBW Spot Welder Parts List Nov. 2018
TSP / TBW Welder Parts Diagram